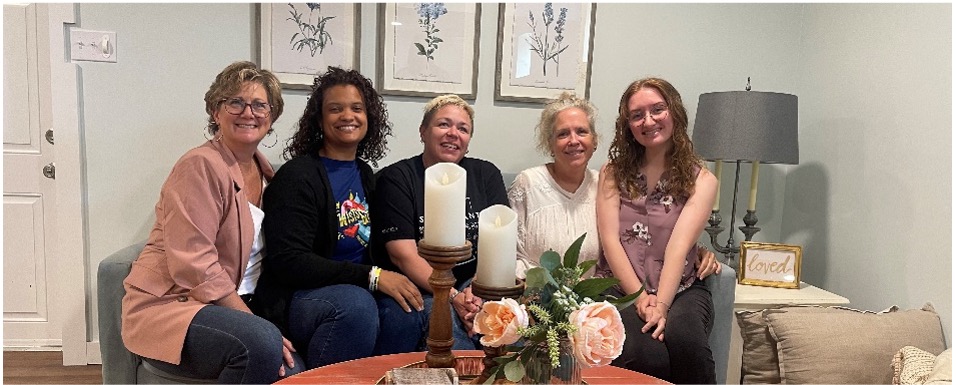 July 13, 2023 – Members of the Charles County Charitable Trust board and staff had the opportunity to visit Poiema Movement in Waldorf. Poiema (meaning masterpiece in greek) is a transitional living program that empowers women survivors on the road to recovery from substance abuse, addiction, domestic violence and more.  This intensive 12–24-month journey is currently helping 8 women recover from trauma and choices that have shattered their lives by teaching mindfulness, financial responsibility, and life skills. Women that are ready to make the change in their lives are required to work, pay the program fees and remain drug and alcohol free.
During our visit, Tiffany Barber, Executive Director, said "Every person that walks into this program, leaves better than they came." Erin, a current Poiema resident, credits the program for saving her life. They have helped her find her worth, her career and her spirituality. To keep the successes going, Poiema is always looking for new partners. Whether it is a small, personal gift or a large, corporate gift, your investment into this program is felt throughout the community. It costs $99 per day to provide services to one resident.
LifePoint Wesleyan Church, Inc./Poiema Movement is a recipient of the Charitable Trusts FY 2024 grant where the funding will support staffing for the transitional living and support for trauma survivors.
For more information on the Poiema Movement resident criteria, visit www.poiemamovement.com/admissioncriteria. To donate to this worthy and important organization, visit https://poiemamovement.kindful.com/.
Not only does the Poiema Movement program impact women, but women leave the program and impact the community. Just this week the Poiema Movement received a phone call from a former resident who called to tell them she got a job as a kindergarten teacher. Poiema staff celebrated with her, recognizing that they lit the pathway to dignity, purpose, and hope, but SHE did the hard work of restoring her life. Today we celebrate not only Poiema's impact in her life, but her impact in our community!